Want to remove line breaks and carriage returns from a cell in your Excel file without having to do it manually? The good news is, you can use the "find and replace" function on Excel to get this job done.
Let's say, we have the following example: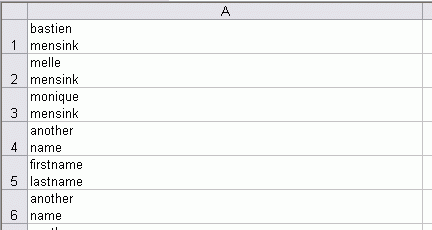 In this case, the author has used the shortcut Alt+Enter to put the last name on a new line.
But now we need it together on a single line, with a space between the first name and last name instead of a line break.
Instead of:
Bastien
Mensink
we need:
Bastien Mensink, etc. etc.
If you want to replace these line breaks with a space, you can do this with Excel's "find and replace" command.
Press CTRL-F to launch the "find and replace" window.
In the "Find what:" field, enter the line break code, which is character number 10. To do this, press and hold the Alt key, and then enter the numbers "010" using the numeric keypad on the right-hand side of your keyboard (the numbers above the letters on your keyboard won't work). You'll then see a small dot blinking when your cursor is still in the field. If you have data imported from another source, sometimes the line breaks are also represented by character 13 instead of 10. If "010" does not work, try "013".
In the "Replace with:" dialog, you can enter a space to replace the line breaks with spaces. You can also leave that blank to completely remove the line breaks without replacing them with anything.
Press "Replace All".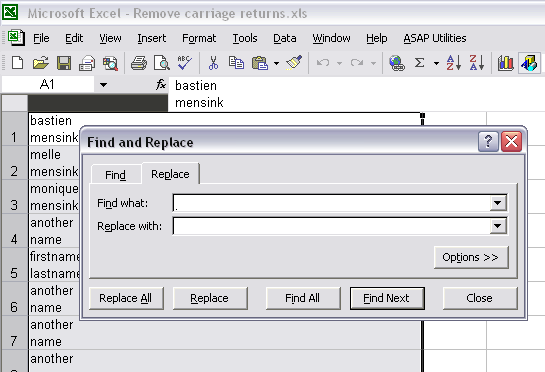 *Samples and screen shots were derived from ASAP Utilities.